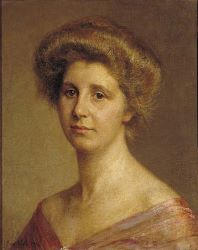 Rosy Wertheim
(b. Amsterdam, Feb 19, 1888; d. Laren, May 27, 1949)

She was one of the first women in the Netherlands to complete a professional music and composition education. Wertheim studied composition with Bernard Zweers and Sem Dresden in Amsterdam, with Louis Aubert in Paris and counterpoint with Karl Weigl in
Vienna. Until 1935 her home in Paris was a meeting-place for many composers, including Elsa Barraine, Arthur Honegger, Jacques Ibert, André Jolivet and Messiaen. In 1937 she was forced to go into hiding in Amsterdam during World War II because of her Jewish origins. Following the German occupation Rosy Wertheim organised house concerts in her cellar. These concerts featured modern music, particularly works by Jewish composers which were now banned like Henriette Bosmans, Martin Spanjaard, Ignace Lilien, Jan van Gilse.
Works:

Rosy Wertheim wrote around ninety compositions, beginning with mainly songs and piano pieces. Later developing to compose for choirs, especially female choirs, maybe related to the fact that she also conducted a Jewish women's chorus of the Religieus Socialistisch Verbond in Amsterdam. Her dedication to chamber music has influenced Dutch Chamber music, Leo Smit Stichting (Foundation) organizes and supports her music until this day together with composers with the same Jewish background, such as Johanna Bordewijk and Henriëtte Bosmans.

Recordings:

Donemus
Sheet music

Public Library in Amsterdam
Sheet music

ATRIA
Sheet music

Further reading:

A short biography
Forbidden Music Regained