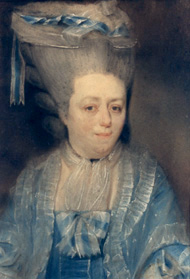 Josina Anna Petronella van Aerssen (=Boetzelaer)
(b. The Hague, Jan 3, 1733; d. IJsselstein, Sep 3, 1797)

Boetzelaer was born a baroness and served as a lady of the court to Princess Anna of Hanover and later to her daughter, Princess Caroline. The violinist and composer F. P. Ricci by the House of Orange taught her music. Her works are one of the few surviving works of the 18th century Dutch female composers, together with Belle van Zuylen and Elizabeth Joanetta Catherine von (van) Hagen.

Works:

Nederlandse Muziek Instituut has some of her works as well as the National British Library in London. The complete list of
her works can be found in Helen Metzelaar's Case Studies.

Further reading:

Professor Helen Metzelaar has done extensive research on Dutch 18th century composers including Josina van Boetzelaer, Gertrude van den Bergh and Hermina Amsersfoordt-Dijk.

Helen Metzelaar: From Private to Public Spheres: Exploring Women's Role in Dutch Musical Life from c.1700
to c.1880 and Three Case Studies (Utrecht, 1999), p. 126