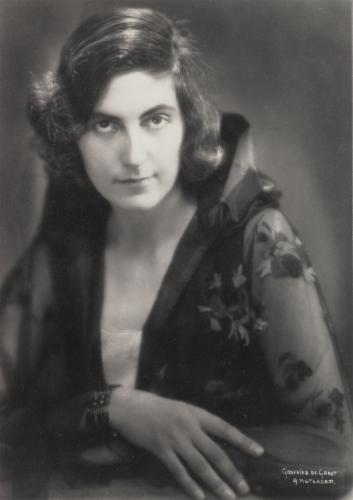 Henriëtte Hilda Bosmans
(b. Amsterdam, Dec 6, 1895; d. Amsterdam, Jul 2, 1952)

Bosmans was a striking personality in Dutch music life in the first half of the last century. Her father, Henri Bosmans, was a cellist of the Concertgebouw Orchestra, and her mother, Sara Benedicts taught piano for 40 years at the Amsterdam Conservatory. Naturally, Bosmans studied the piano with her and in 1912, she gained a piano teaching certificate cum laude from the Maatschappij tot Bevordering der Toonkunst in Utrecht. She appeared with leading European conductors such as Pierre Monteux, Willem Mengelberg, Eduard van Beinum, Sir Adrian Boult, George Szell and between 1929 and 1949 she performed 22 times as soloist with the Concertgebouw Orchestra.
Bosmans began studying music theory and composition with Jan Willem Kersbergen and later followed by composition lessons with Willem Pijper (1927–30) and instrumentation with Cornelis Dopper (1921–22). Her international breakthrough began in 1938, when violinist Willem Noske played Concertstuk for violin and piano in Prague and Paris.
During the war Bosmans refused to become a member of the Kultuurkamer, which was required of all Dutch musicians. While many left the Netherlands, she stayed behind to take care of her elderly mother. Since many musicians cancelled their performance in The Netherlands, Bosmans had a peak in her career as a pianist, since she had to replace some of the finest visiting musicians. That ended in August 1942, where she was no longer welcome as a pianist and her music was banned. She earned an income by playing in private underground concerts. In the war years she became very close friends with the recital artist Charlotte Köhler, and after the war with the composers Benjamin Britten and Matthijs Vermeulen.
Bosmans first published work is as early as in 1917, when she was 23 years old. She composed until 1951, a year before her death. In 1951, Bosmans was knighted in the Royal Order of Orange Nassau.
Works:

Her oeuvre of works includes many orchestral works, chamber music and many songs. Many of her works were inspired by musicians with whom she performed. Her friendships with the cellists Marix Loevensohn and Frieda Belinfante resulted in several works for cello, including two concertos and Poème for cello and orchestra. The early death of her fiancé, the violinist Francis Koene, with whom she formed a duo, also had a lasting influence, where she didn't compose between 1938 and 1945. In the last years of her life, plagued by illness, a new creative period began. The songs that she then wrote and performed with her friend Noëmie Perugia are among the best of that time.
Many of her works were published during her lifetime by Alsbach and Broekmans & Van Poppel. Her manuscprips and published works can be found at the Dutch Music Institute, Donemus Publishing Company and the Vrouw & Muziek collection located in Atria. For more information in Dutch, you can visit Leo Smit Stichting/Forbidden Music Regained.
Recordings:
Further reading:
Looyestijn: 'Henriëtte Bosmans', Zes vrouwelijke componisten, ed. H. Metzelaar, (Zutphen, 1991)
Metzelaar: 'Postwar Eggs from Holland: Benjamin Britten and Henriëtte Bosmans', (Musiek & wetenschap, 6, 1997–8)
Metzelaar, Helen, 'Zonder muziek is het leven onnodig'. Henriëtte Bosmans, een biografie (Zutphen, 2002)
Klis, Jolande van der (ed.) 'The Essential Guide to Dutch Music: 100 composers and their work'. (Amsterdam University Press, 2000)
Agrafenina, 'Dutch Female Composers', Master Thesis, (Conservatory of Amsterdam, 2020) – accessed on request agrafenina[at]gmail.com
For more information:
Bosmans website – COMING SOON

Nieuw Geneco – Bosmans Legacy Project