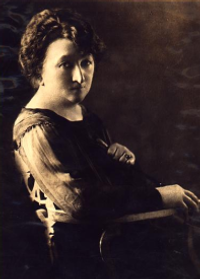 Elisabeth Kuyper
(b. Amsterdam, Sep 13, 1877; d Muzzano, Switzerland, Feb 26, 1953)

She studied with Daniël de Lange and Frans Coenen in Amsterdam (piano-teaching certificate 1895) and like many other Dutch musicians, she decided to study abroad with Max Bruch at the Berlin Hochschule für Musik. She was the first woman to receive Mendelssohn Staatsstipendium für Komposition and a stipend from the Dutch Government between 1905 and 1907. She was the first woman to teach theory and composition at the Hochschule from
1908 until 1920. She founded the Berlin Tonkünstlerinnen-Orchester in 1910 as women were not allowed to play in the majority of the symphony orchestras, the orchestra lacked the financial basis despite of her success and was disbanded one year later. The same destiny
happened to the other orchestras she founded in London (1922–3) and New York (1924–5).
Works:

Her works compromise both small and large-scale works. She wrote music for the stage and well as a large orchestra, chamber pieces, piano solo, vocal pieces and for choir. A list of her works can be found in H. Metzelaar (ed.) Zes vrouwelijke componisten, (Zutphen, 1991) p. 116-118 and Jolande van der klis (ed.) The Essential Guide to Dutch Music: 100 composers and their work, (Amsterdam University Press, Amsterdam 2000) p. 221.

IMSLP

Atria

Dutch Music Institute
Further reading:

H. Metzelaar (ed.) Zes vrouwelijke componisten, (Zutphen, 1991)

W. Jeths: "Elisabeth Kuyper" The Essential Guide to Dutch Music, ed. J. van der Klis (Amsterdam University Press, Amsterdam 2000), p. 218

Recordings: