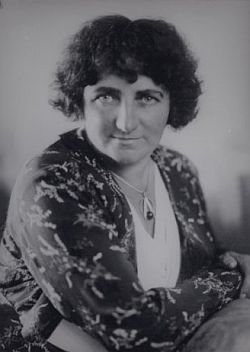 Christina Adriana Arendina (Dina) Koudijs-Appeldoorn
(b. Rotterdam, Dec 26, 1884; d. The Hague, Dec 5, 1938)

Dutch composer and pianist. After studying at the Royal Conservatory in The Hague (1899–1906), she began her career as a piano accompanist for various choirs in The Hague, but increasingly turned to composition. She studied composition with F.E.A. Koeberg and later with Johan Wagenaar, whom she often consulted throughout her life.
Works:

Appeldoorn composed small works such as for singers and piano, choir and chamber music. She founded a quintet with the soprano Lena van Diggelen which gave performance to many of her songs. She has also written larger works such as the symphonic poem Pêcheurs d'Islande (1912) and Noordzee-symfonie (1925). Both works were performed by the Utrecht Symphony Orchestra. She was awarded a prize by the Nederlandsche Volkszangbond in Utrecht for Jubileum-lied in 1923 for Queen Wilhelmina's 25th anniversary.

IMSLP
Further reading:

K. Brooijmans: Dina Appeldoorn (1884–1938) (thesis, Utrecht U., 1994)

Recordings: